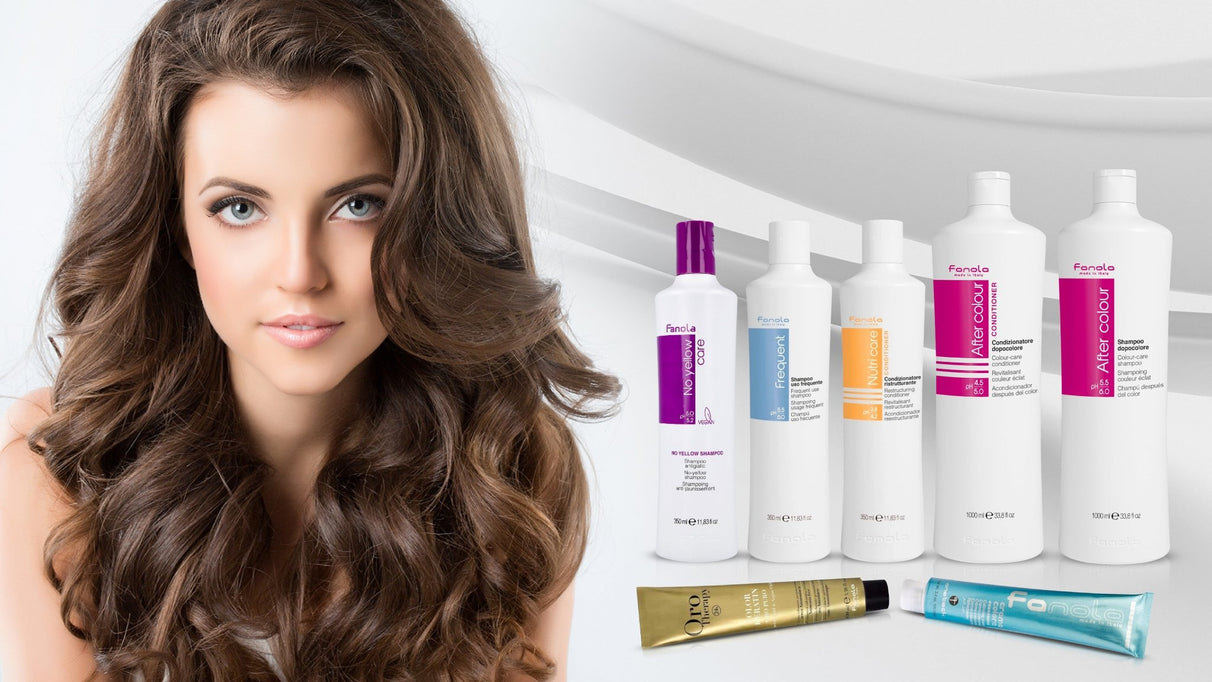 news
6 Best Selling Fanola Hair Care Products in UAE
Are you sick of bad hair?
Well, we all have awful hair days! Hair issues may seem insignificant, but the truth is: we all loathe them. The last thing that anybody would want is bad or damaged hair. Everyone wants healthy, strong, and abundant hair.
However, dull, frizzy, and lifeless hairs have become a common problem now. Waking up with frizzy, difficult-to-tame hair ruins our moods.
Let's face it; we seldom put any effort into nurturing our tresses due to our hurried lifestyles paired with unhealthy eating habits. On top of that, chemical treatments, hair color (including bleaching) leave our hair in terrible shape. As a result, we either experience a lot of hair loss or have dry, lifeless hair.
Reasons for bad hair vary from person to person. In some cases, genetics play a part. While in others, the main culprits are chemical-laden hair care products like shampoos and conditioners.
Most of you must have lost hope in your hair. We understand how tough it is to tackle bad hair. Some people lose confidence because of their bad hair. But this is not what we want you to be doing.
We want you to have healthy, beautiful, and lustrous hair.
Wondering how???
Thankfully, regaining your hair's youthful luster isn't unattainable. Yes, you read that right!
With Fanola Hair Care Products, you can change the way your hair look. Calling it a panacea for all your hair issues won't be an exaggeration.
Here in this post, we shall talk about the best six Fanola Hair Care Products. If you're struggling with awful hair, don't leave it here; scroll down to read the full article.
Let's get started.
Before we take a look at hair care products, let's first know the different types of hair problems and their causes.
Here we go…
Types of Hair Problems
1. Dandruff
Dandruff is the most common hair problem that we're all familiar with. Loose skin flakes and an itchy scalp are the two typical symptoms of dandruff. It is usually caused by scalp dryness, excessive sebum production, or chemical response.
What's the solution?
Use good quality hair care products. As poor-quality shampoo or conditioner may cause dandruff. Fanola Hair Care Products are a rapid fix for your dandruff problem. Do try them.
2. Hair fall
Hair loss could result from a poor diet, inadequate hair care, or a symptom of an underlying condition. And it is one of the post-covid symptoms as well.
Losing 50-100 strands in a day is common. Anything more than that is a red flag.
Different people have different reasons for hair loss.
Image via: Vcare
How to resolve this?
Using mild hair products, applying high-quality conditioners, and increasing your protein intake can help significantly. And yes, avoid (if possible) or minimize overuse of hair styling tools such as irons and dryers.
3. Split ends
Split ends are another typical hair problem that occurs when your hair strands dry out. This could be due to a lack of fluid intake or the usage of conditioners.
What should you do to fix split ends?
Well, brush your hair at least twice a day to let the natural oil from your scalp reach the tips. Trim your hair regularly, and use fanola hair treatment cream (if you've chemically treated hair). Drink plenty of water and never tie your hair tightly before going to bed if you have long hair.
4. Frizzy hair
Frizzy hair is the most common hair problem. It seems dry, unruly, and is difficult to maintain and keep in place. Frizzy or fly-away hair is more prone to breakage and damage than straight hair.
Hair becomes frizzy when it is exposed to dampness and harsh chemicals. Besides, there are numerous other causes of frizzy hair.
So, what is the solution for it?
Use a Fanola hair mask. It is made of all-natural and hair-friendly products that make your hair look good and feel good. Moreover, if you use coloring, then use only fanola hair color cream or fanola oro color. These colors help strengthen the hair and repair damage.
And yes, don't miss drinking plenty of water and eating healthy food.
So, these are common hair issues that most people face these days. Undoubtedly, the best remedies for all of these problems are homemade remedies.
However, we cannot deny that homemade cures are time-consuming and need a significant amount of effort. And taking out time in today's fast-paced world is nearly impossible.
That is why renowned hair stylists recommend utilizing high-quality hair care products, such as Fanola Hair Care Products.
The components in Fanola hair care products are entirely natural and hair-friendly. These products are the result of extensive research and analysis of all hair concerns.
Now it's time to take a look at the Fanola Hair Care Products.
Here we go...
Top 6 Fanola Hair Care Products
It is one of the best hair colors on the market. It's not a hair color - it's a therapy. It fortifies your hair and aids in restoring damaged hair—ideal for achieving rich and brilliant color effects.
Pricing: Dhs. 39.00
2. Fanola No Yellow Shampoo 350ml
Fanola No Yellow Shampoo is a great remedy for grey, super lightened, or decolored hair. No Yellow Shampoo helps you maintain your color's vibrancy and consistency.
Pricing: Dhs. 42.00
3. Fanola Frequent Shampoo 350ml
Fanola Frequent Use Shampoo is a gentle cleansing shampoo that's suitable for all hair types. The shampoo is made of orange extracts that help strengthen your hair and make them look lustrous and shiny.
Pricing: Dhs. 59.00
4. Fanola Nourishing Nutricare Conditioner 350ml
Fanola Hair Conditioner is an ideal solution for dry, frizzy, and treated hair. Thanks to the deep hydrating and Nourishing action that leaves hair silky soft, brilliant, and easy to comb.
Pricing: Dhs. 69.00
5. Fanola Hair Color
Grey hair is a common issue today; even kids these days get grey hair. Therefore, hair coloring has become an integral part of our lives. However, it is critical to invest in good-quality hair colors.
Fanola hair color creams are excellent for coloring your hair. This coloring cream is available in different shades, making it accessible for all.
Pricing: Dhs. 29.00
6. Fanola After Color Shampoo & Conditioner 1000ml
Only using good quality color is not enough. You should use the right shampoo and conditioners for your colored hair. Some people take it very lightly. They invest in good quality hair colors and use regular shampoos and conditioners, which is the worst thing that one can do.
Fanola combo pack of after color shampoo and conditioner is an excellent choice for colored hair. Fanola after color shampoo and conditioner is gentle on treated hair, making your hair silky and manageable.
Pricing: Dhs. 162.00
Wrapping up...
So there you have: 6 Best Selling Fanola Hair Care Products in UAE. All of these products are tried and tested. The best part is that these products are composed entirely of natural ingredients that aid in hair strengthening.
---