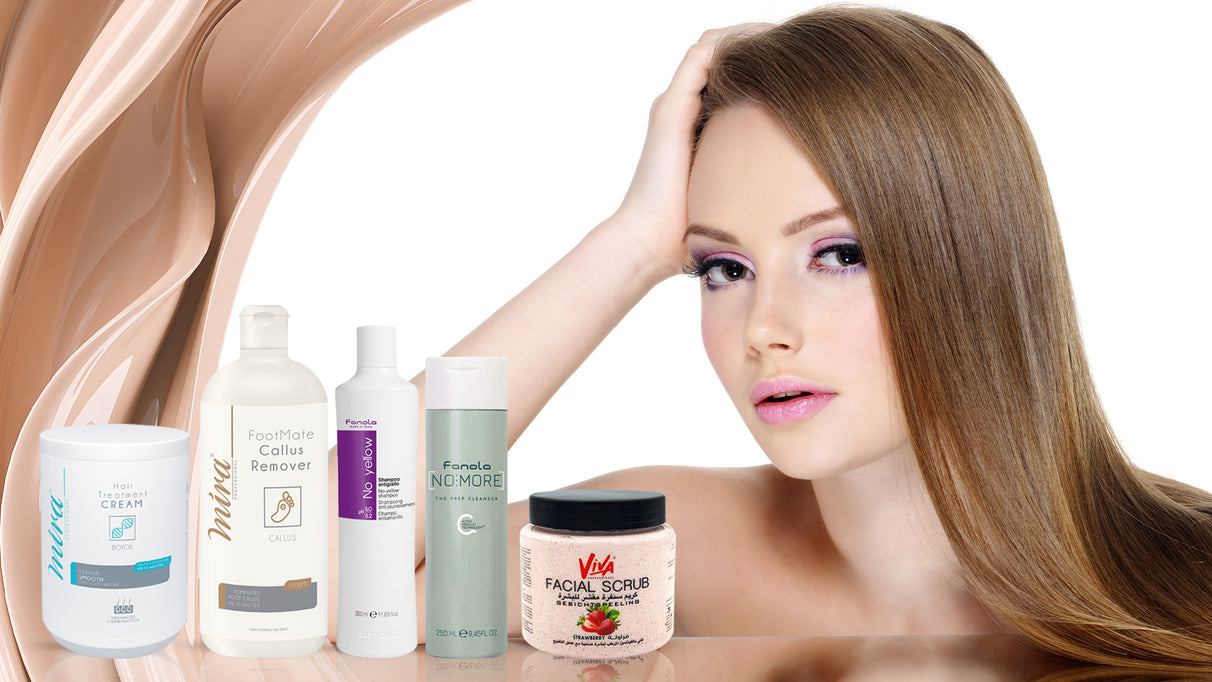 news
How to Use 9 Top Selling Beauty Products in UAE
Top 9  Selling Beauty Products in UAE
The secret behind having good hair days often depends on the products you use. It is important to invest in good branded products which have all the natural ingredients to get that lively and beautiful that you are looking for.
From shampoos to conditioners, hair masks to serums, we've got you all covered. Here are the top selling beauty products in UAE which are affordable and convenient to add to your hair care routine to make your hair look more graceful and beautiful.
Shop the best Hair care products from Dayjour
One of the top selling beauty products in UAE is No Yellow Shampoo. You won't regret spending your money on this purple pigmented shampoo for your colored hair. No Yellow shampoo will help you in maintaining your colored hair. This shampoo is specifically designed for bleached, blonde and grey hair in maintaining bright and even tone.
The best part of this shampoo is that these are completely cruelty free and vegan friendly.
Go ahead and give No Yellow a try!
How/when to use:
Apply a small amount of shampoo on soaked hair and massage it for 2-3 minutes and rinse.
Cover your hands with gloves to prevent staining them. Apply once a week to maintain your colored hair.
No Orange Shampoo is one of the best toning shampoo, designed specifically for blonde, brunette, grey tones. This shampoo is made with a rich blue pigment that helps in lightening the red, orange tones of your hair and also contains Coconut Oil and Tiare Flower which helps to maintain your color and give a beautiful, soft and glossy look.
How/when to use:
Apply a small amount of No Orange Shampoo on soaked hair and massage it for 2-3 minutes and rinse.
Cover your hands with gloves to prevent staining them. Apply once a week for best results.
Mira Hair Treatment, is a deep conditioning and smoothing hair mask that gives you salon quality hair just by staying at home. This amazing mask contains all the good ingredients essential for keeping your hair moisturized, nourished and frizz free.
Mira hair treatment mask is perfect for those who constantly use heating tools, dyed hair, and people who deal with excessive humidity.
How to apply the Mira Hair Treatment Hair Mask:
Wash your hair with warm water before applying the hair mask as warm water will help you in opening the hair cuticles and allow it to absorb the hair mask evenly.
Rinse your hair with cold water as it helps in sealing all the moisture that was produced from the mask.
Do not rub your hair aggressively with a towel, it may further damage your hair and lead to frizziness.
Grab your hands on Mira Hair Treatment Mask, we guarantee you won't regret it!
Viva Professional Wax Tube has to be one among the top selling beauty products in UAE, a traditional wax which is natural and safe for all types of skin. This wax is formulated with vegetable oil and beeswax giving you a honey like texture. Honey contains the antibacterial properties which will leave your skin smooth and beautiful without causing any rashes or wounds.
Pro Tip: Use after wax oil which will help in removing the wax residue giving you a smooth and silky finish
How to use:
Place the cartridge on the wax warmer for about 10 - 15 mins once it's heated.
A apply a thick layer of wax in the direction of the hair growth.
Place the wax strips on and remove it in one quick motion.
This product is highly recommended by the salon professionals. Just like your body, your hair needs protein too. If you feel your hair is too dry and weak, it's time for you to give your hair a good protein treatment. With Mariani After Treatment Protein therapy kit you can give your hair the salon treatment just by relaxing at home. Mariani After Treatment Protein therapy helps in reconstructing your damaged hair and in strengthening your scalp.
How to use:
To apply Mariani Protein Treatment all you need to do is shampoo and condition your hair. Divide your hair into sections and apply the protein treatment to your scalp, make sure the treatment is covered till the ends thoroughly.
Massage your scalp and cover your hair with a shower cap and let it set for about 20 - 25 minutes.
Rinse off treatment with warm water
Viva professional facial scrub with brightening and its unique formula contains strawberry extract which gently exfoliates and cleans the skin without any side effect, leaving it soft to the touch. It is suitable for all hair types.
How to use:
Apply facial scrub with fingertips to the face and neck.
Massage in a circular motion for a few minutes.
Rinse well with water.
For the best results, use twice a week.
Anti-dandruff for oily hair helps to feel refreshed and stimulates blood cells because of its menthol and active ingredients. It helps to feel refreshed as soon as it is used.
How to use:
Apply on the scalp directly.
Gently massage the scalp for a few minutes.
Do not wash hair.
With the new Active Miraclay technology, Fanola introduces a completely new category of hair products to hairdressing- No More Styling Kit.
The No More kit by Fanola includes 250ml shampoo, a 200ml mask, and a stylish brush. The best products for coarse, unruly, frizzy hair to nourish, moisturize and detangle the hair and provide long-lasting styling.
The Prep Cleanser:
Shampoo- Pre-treatment for the No More Styling Mask
No residues (styling residues) in the hair
pH 5.5-6
Silicone-free
3% naturalness
Unforgettable fragrance
The Styling Mask:
Anti-frizz function
Long-lasting style
Fast-acting treatment (leave on for only 2mins)
Quick-drying
Silky texture
99% naturalness
Vegan
How to use :
Apply the shampoo to wet hair, massage thoroughly, and rinse responsibly.
Apply the styling mask to the lengths and ends of wet hair, leave on for just 2 minutes, then rinse responsibly.
Last but not the least product to come under the top selling beauty products in UAE is Mira FootMate Callus Remover, works by increasing the amount of moisture in the skin and solves the substance that causes the skin cells to stick together. It is designed for the safe and effective removal of calluses and dried skin to leave skin appearing soft and smooth.
How to use:
Apply the Callus remover over the callus using cotton.
Allow penetrating for 3 to 5 minutes.
Use a file or buffer to gently remove callus.
Wash thoroughly with water after use.
Get your hands on these 9 top selling beauty products in UAE from Dayjour to have a good hair day everyday.
---