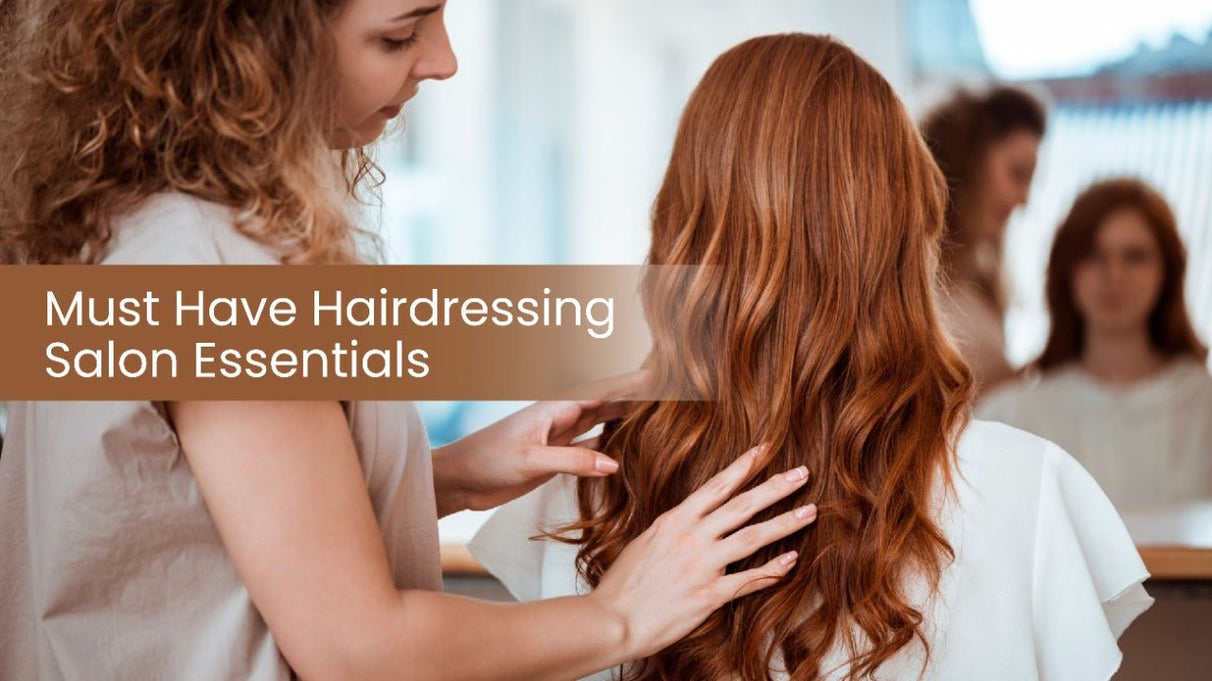 news
10 Essential Equipments Needed For a Hairdressing Salon 2022
If you are someone planning to open a salon and are wondering what all things you'll need, you are in the right place.
Here we'll talk about hair equipments, products, and accessories you'll need to run a successful salon in this modern era. Many choices are available nowadays when it comes to selecting equipment. Here is a list of a few items we think every salon MUST have.
Salon Hair Chair
It is a good idea to start with this piece of furniture when designing your hair salon since it is a necessity. Hairstyling chairs are available in a variety of sizes, designs, and colors. According to the requirements of the salon, chairs can be used for many purposes like styling, shampooing, drying, and many more.
Salon Trolley
One of the most important pieces of furniture equipment is the salon trolley, which enables the hairdresser to have all the styling supplies right next to them while providing customer service. It helps you stay organized and makes it easy to store and move styling supplies.
Hair Steamers
An essential tool for improving hair elasticity, providing moisture, and recovering color vibrations. Another advantage of hair steamers is their moist heat, which encourages blood flow to the scalp.
Various types of shears
The majority of hairdressers use standard shear sizes that range from 5 to 6 inches, depending on the results they are aiming for. A length of 6 – 7 inches shear is commonly used for cutting, texturizing, etc. For precision cutting, we suggest you to use 5.5-inch shears. Using a longer shear makes your work simpler and more comfortable. It also reduces the time needed to complete a hairstyle that your client requires.
Blow Dryer
No hairstylist in their salon could work without a blow dryer. Along with your shears, it might be the most crucial tool in your toolbox. Look for a hair dryer that uses the most recent technology, as these take less time to dry hair, do considerably less damage, and leave your finished hairstyle looking healthy and frizz-free all day. It's critical to find a blow dryer that won't leave your arms sore all day.
Salon Mirror
You'll need this salon mirror when you present the final looks to your client, which is the key component of the salon service. Always pick an option that fits the demands and aesthetic of your salon.
Salon Hair Towel
Towels must always be available in abundance in any salon. To ensure that your customers receive the best care possible, be sure to purchase dependable, premium bleach and chemical-safe premium towels.
Paddle Brush
A paddle brush is the only tool that reliably and quickly detangles hair. Before using the round brush, you can also use it to give the finished hairstyle more volume. This brush's large, shaped surface is a big plus because it makes it ideal for applying tension to a big surface while drying hair. If you want to tame frizz, look for a style with a soft base and bristles covered in nylon. With less effort, these qualities will increase the tension and shine of the hair.
Cutting Cape
Every salon needs a set of capes for cutting hair. All hair stylists are required to wash and style their clients' hair as effectively as possible. Every salon needs a suitable and useful hair-cutting cape because it increases productivity, creates less mess, necessitates less cleaning, and makes hairdressers' jobs easier, faster, cleaner, and more effective.
Hair Clips
With the ability to hold a lot of hair at once, sectioning clips are used to stop hair from falling. Never confuse sectioning clips with fashion clips. Both of them were not made for the same reasons and are not equivalent.
There are many factors to take into account when starting a new hair salon, including choosing a location, hiring staff, and, of course, buying all the required equipment and supplies. The result is definitely worthwhile, though! We wish you luck and patience and we hope that our list of hair salon supplies will be useful to you.
As a summary note, if you are someone looking for all these items, you can buy from www.dayjour.net online shopping platform, one of the best online shopping platforms for salon furniture & beauty care products in UAE.
---